Hello,
I have just bought a 2004 R850R. It is quite different from my previous 1996 F650 Strada. I just rode 2km
. The battery was discharged and it started pouring outside, heavy rain.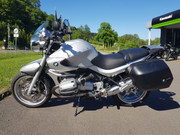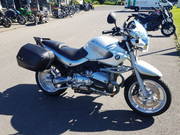 I have a few questions/requests:
1. I noticed a clack noise when accelerating. Is it normal, or smth wrong with the transmission? Just one clack, not clacking.
2. Does anybody have a user manual? I found and downloaded a few service manuals. I need to know the coding of idiot lights (i found a pdf about iABS) and of the other controls. There are more than on my previous 1996 F650 ST. I didn t even know R850R has a choke
. I don t know how to cancel the turning signals. Just rode 2km
I also need to know where the battery charging port is located...